Introduction
BIAS Distortion Pro is the ultimate distortion pedal that allows you to design your dream distortion tone component by component and expand further customization, including Pedal Match and ToneCloud from BIAS Pedal PC/Mac.
Control Panel
For BIAS Distortion Pro pedal, there are 2 major parts of the control panel.
● Preset Panel
With a preset knob, 7 parameter knob and a 3-way toggle switch, you can customize the presets stored in the device.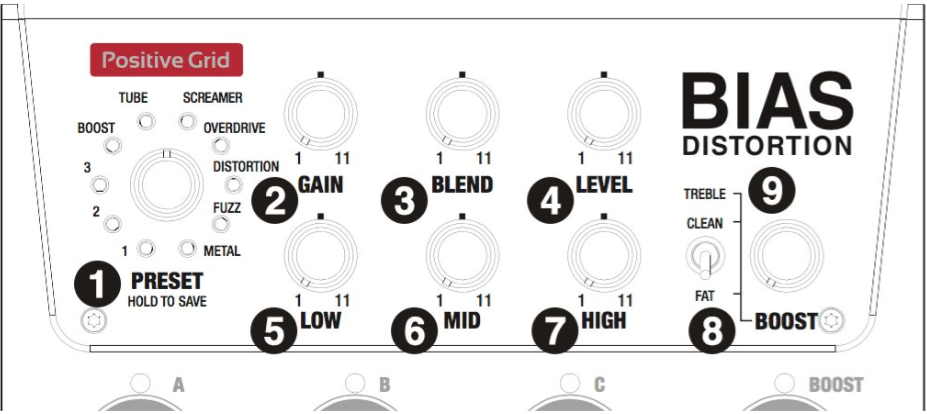 Preset knob - Controls the current engaged preset. Once the parameter changed, LED blinks.

GAIN - Controls the amount of distortion.

BLEND - Controls the mix ratio of output stage (tone shaping) module.

LEVEL - Controls the overall output volume.

LOW - Controls the volume of bass range frequency.

MID - Controls the volume of mid range frequency.

HIGH - Controls the volume of high range frequency.

BOOST - Controls the volume of the boost.

Boost type - Selects from three different boost type 
● Footswitch panel
With A/B/C and a BOOST footswitch, you can engage/bypass those presets and booster on stage.
Rear Panel

Input - 1⁄4" TS Hi-Z input

Output - 1⁄4" TS output

EXP. - 1⁄4" TRS for expression pedal

USB - Micro USB, for power supply and BIAS Pedal integration

MIDI In/Thru - Supports standard MIDI with 5-pin MIDI jack

Wireless button/Breathing LED - There are 3 different state of this LED

●  LED breathes softly when the pedal is on.

●  LED blinks rapidly - Bluetooth is on

●  LED stays on - Connecting with App

9V DC Power Jack- Supports 9VDC power supply with negative tips.