MIDI
BIAS DISTORTION Pro supports standard MIDI commands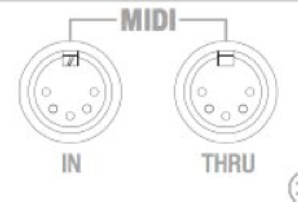 ●  MIDI IN - Receive MIDI commands from external MIDI device. Connect the MIDI Out on the MIDI device to MIDI IN on BIAS Distortion Pro.
●  MIDI THRU - BIAS DISTORTION Pro will pass the MIDI command it receives to the MIDI THRU port. You can connect MIDI THRU to another MIDI device.
●  MIDI Channel:
Default MIDI Channel is 1. With BIAS Pedal app, you can choose the MIDI channel from 1-16 or Omni (all channels).
●  Program Change:
Program Change allows you to switch presets with external MIDI device.
● Control Change:
Control Change allows you to control certain parameter with external MIDI Device