Overview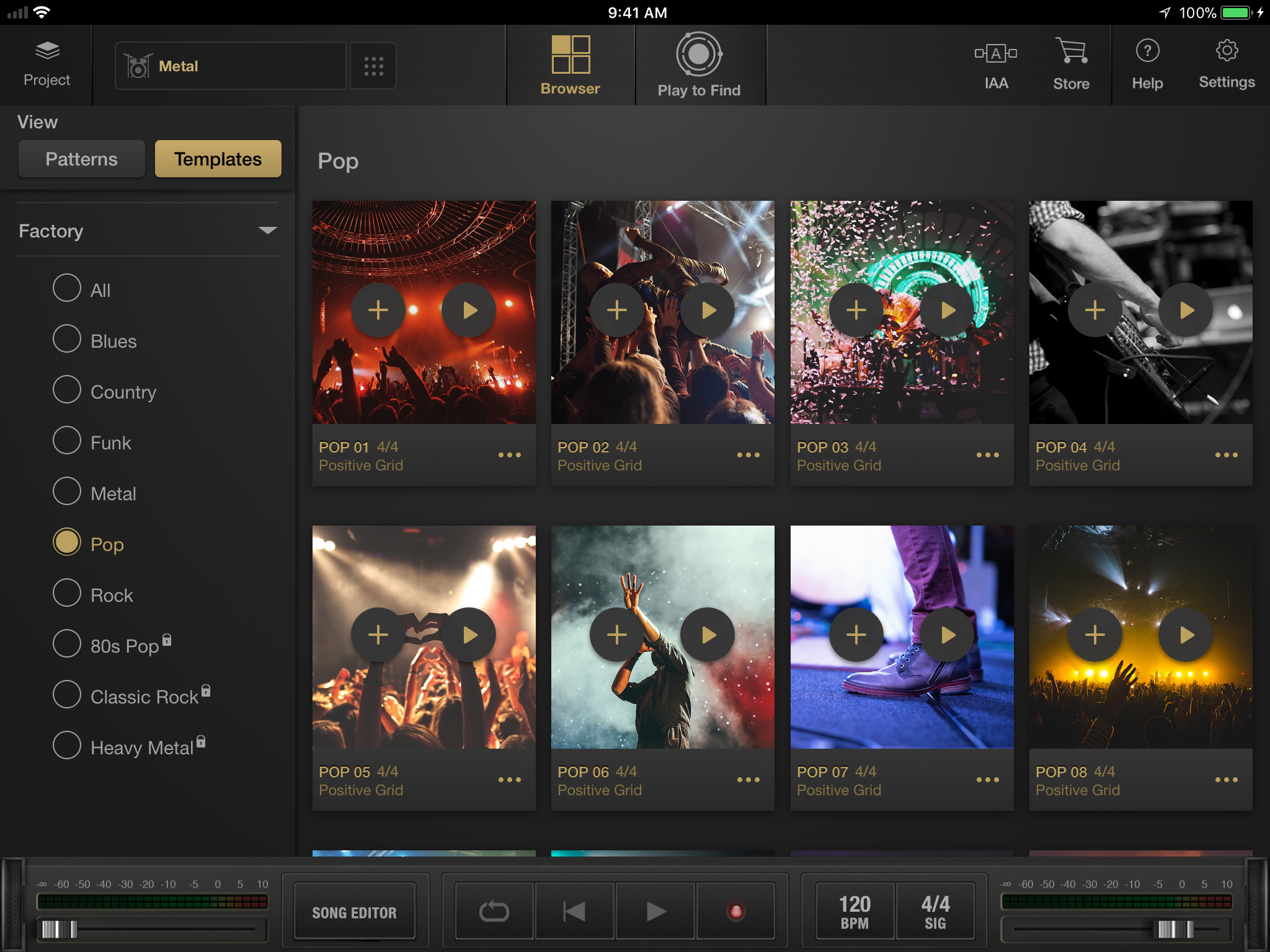 The Browser feature enables you to quickly browse through the entire collection of drum templates and individual patterns. If you're looking to build an entire drum track from scratch, the Browser feature will help you do just that. The Browser offers two ways for you to go about creating your drum track. In the Templates view, you are presented with a huge collection of pre-made complete drum tracks. These templates will help you formulate an idea for your song if you're just looking to explore. The other method is to use the Patterns view, which lets you browse through the entire library of drum patterns individually. If you already have a basic idea for your song, the Patterns view lets you experiment with different drum patterns in your search for the perfect groove.
Templates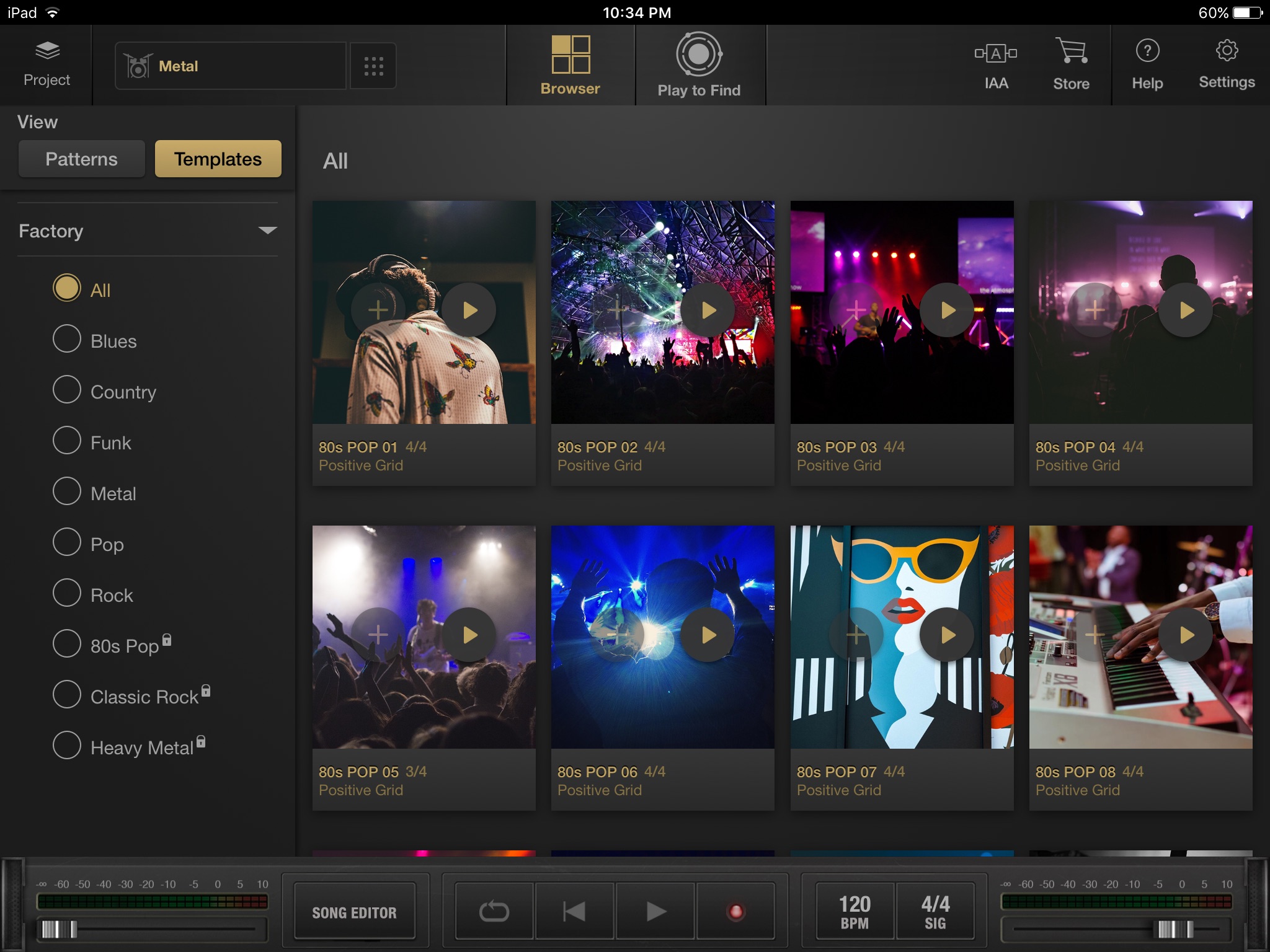 In a nutshell, templates are pre-made drum tracks, complete with separate intros, verses, choruses, bridges, fills and endings. To quickly preview a template, tap the Play icon on the cover art to listen to the drum track in its entirety from intro to ending. Once you've found a template that you like, tap the Quick Add button (+ icon) to add it to the Song Editor to edit its drum patterns. To learn more about the template, tap the info icon at the bottom right of the cover art to see its individual patterns.
Again, if you're unsure about where to start building your song, using the Templates view will help spark an idea in your head. Take some time to listen what each genre has to offer, you'd be amazed by how easy it is to find inspiration in these pre-made drum tracks!
Patterns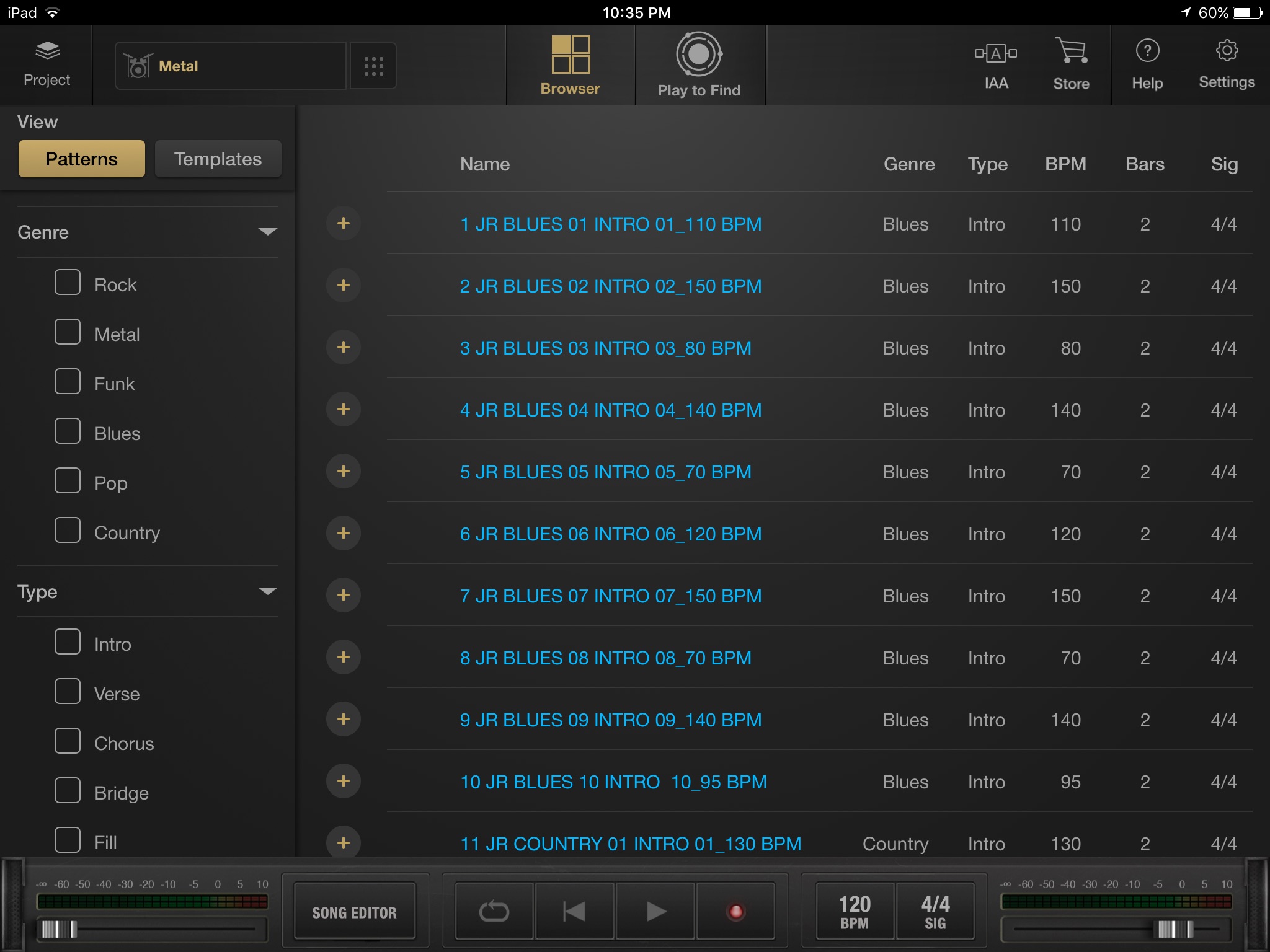 The Patterns view and its quick filters enable you to build an entire drum track by piecing together individual drum patterns. Similar to the Templates view, you can preview individual patterns by tapping on them on the Patterns list. To add a pattern to the Song Editor, just tap the Quick Add button (+ icon) next to the pattern name. You can also drag and drop a pattern into the Song Editor by tapping and holding the desired pattern. In your search through the entire library, we recommend that you take advantage of the filters on the left to quickly narrow down your search. You can filter by genre, pattern type, time signature, and tempo.
If you're feel like experimenting, the Patterns view is a good place to start. By browsing the entire collection of individual drum patterns, you can mix and match individual patterns from different genres to build your own unique drum track.
Now that we've covered the Browser feature and how to easy it is to search for the perfect groove, check out the next section on how to edit drum patterns using the Song Editor function.