1) Let's start with opening the BT pedal editor app. Afterwards, open your 'Settings' app, and  connect with your BT pedal via BlueTooth.
2) In the BT-4 Editor, choose the button which you would like to control OnSong with, and set it to 'Midi mode'. Here you can choose your channel, the number of the footswitch and each value of the MIDI message - for this, let's set it 0 as the 'Off' Value, and 127 as the 'On' Value
If you are going to set on of the buttons as an ON and OFF switch, the CC value will need to be the same number (i.e. 127), in case you have to tap the footswitch 2 times to trigger the shortcut in OnSong. See below for a further example as well!
Don't worry advanced users, both CC and PC can be recognized in OnSong!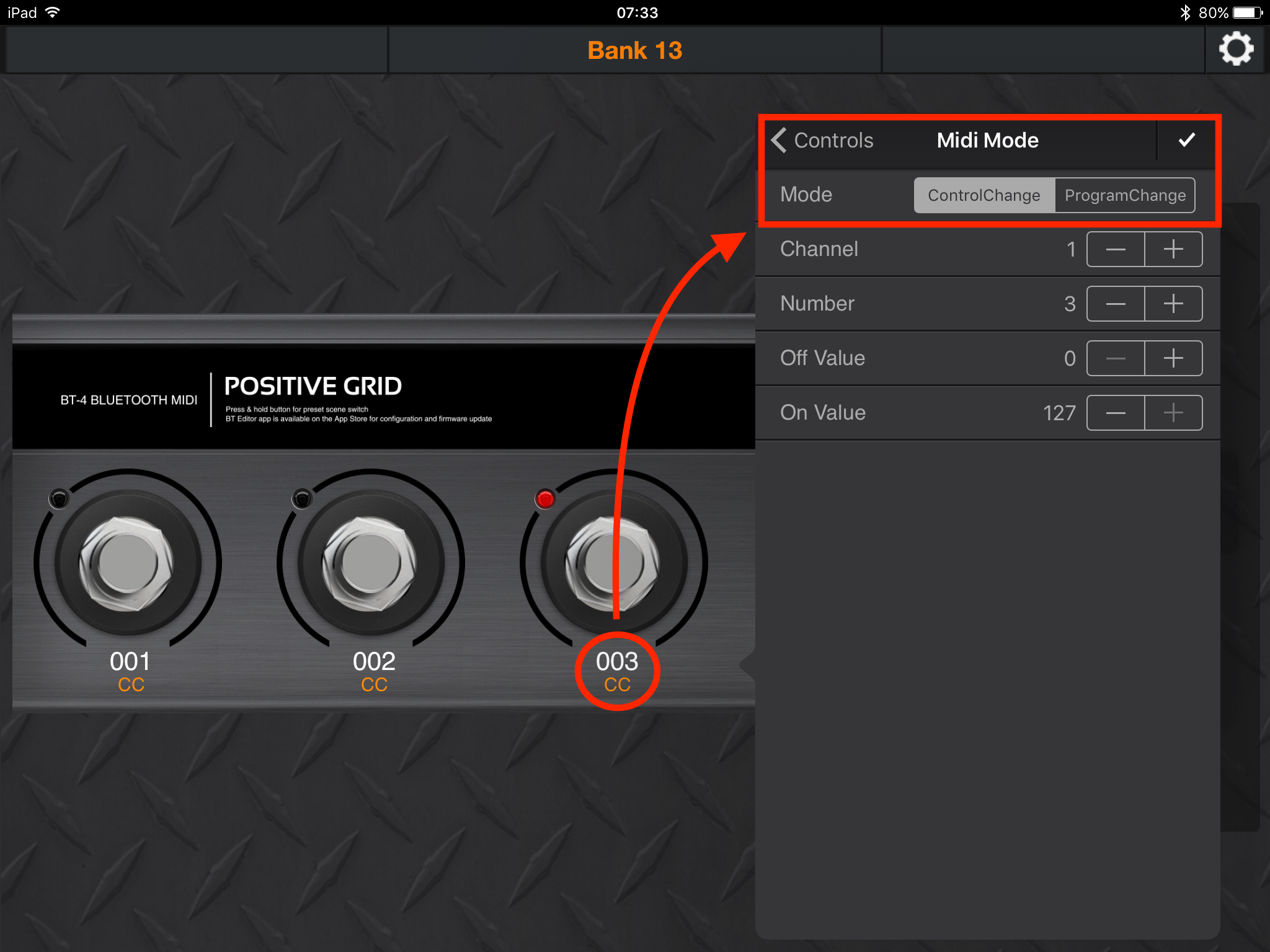 3) Now we've done that, launch OnSong and tap on the gear icon for the settings in the top right.  Then go to 'Editors' and select 'MIDI'.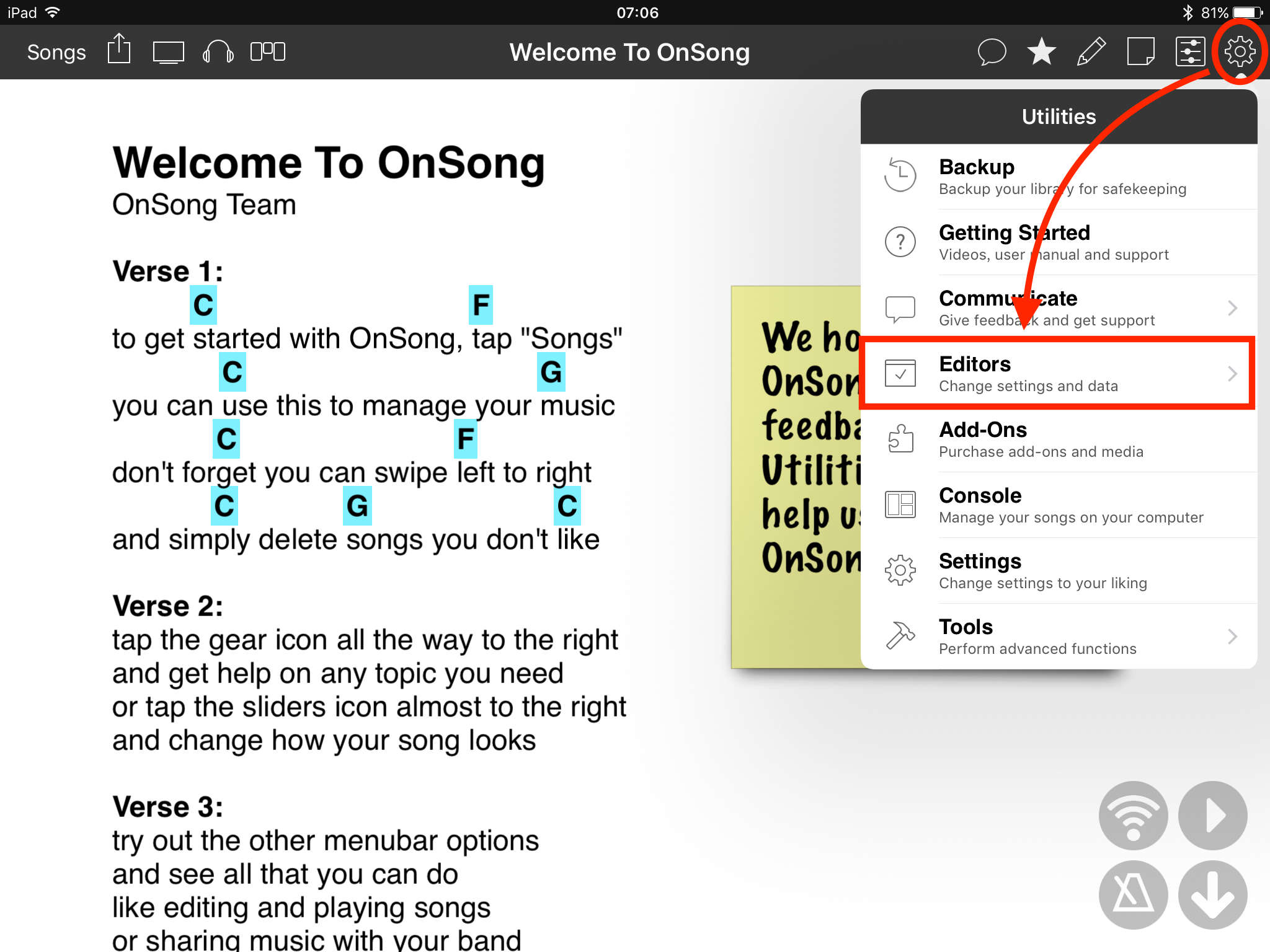 4) Select the tool icon on the lower left corner of 'MIDI Triggers window' This will bring up a further window as well.
5) Turn on the 'MIDI Enabled' switch, and then tap on the Sources and make sure all the options are ticked.
If you're a little lost, don't worry - have a look at the picture below that will help you find your way!
6) After steps 4 and 5, tap the Gear icon again to go back to the 'MIDI Triggers' settings. We're nearly there now.
7)  Step on the foot switch of BT Pedal we is set the Values for in step 2.  The MIDI message should appear in the menu - if you've set it up the same as us, you will see either 127 for 'On' or 0 for 'Off'. You can tap the message to select the action you would like to trigger from the list.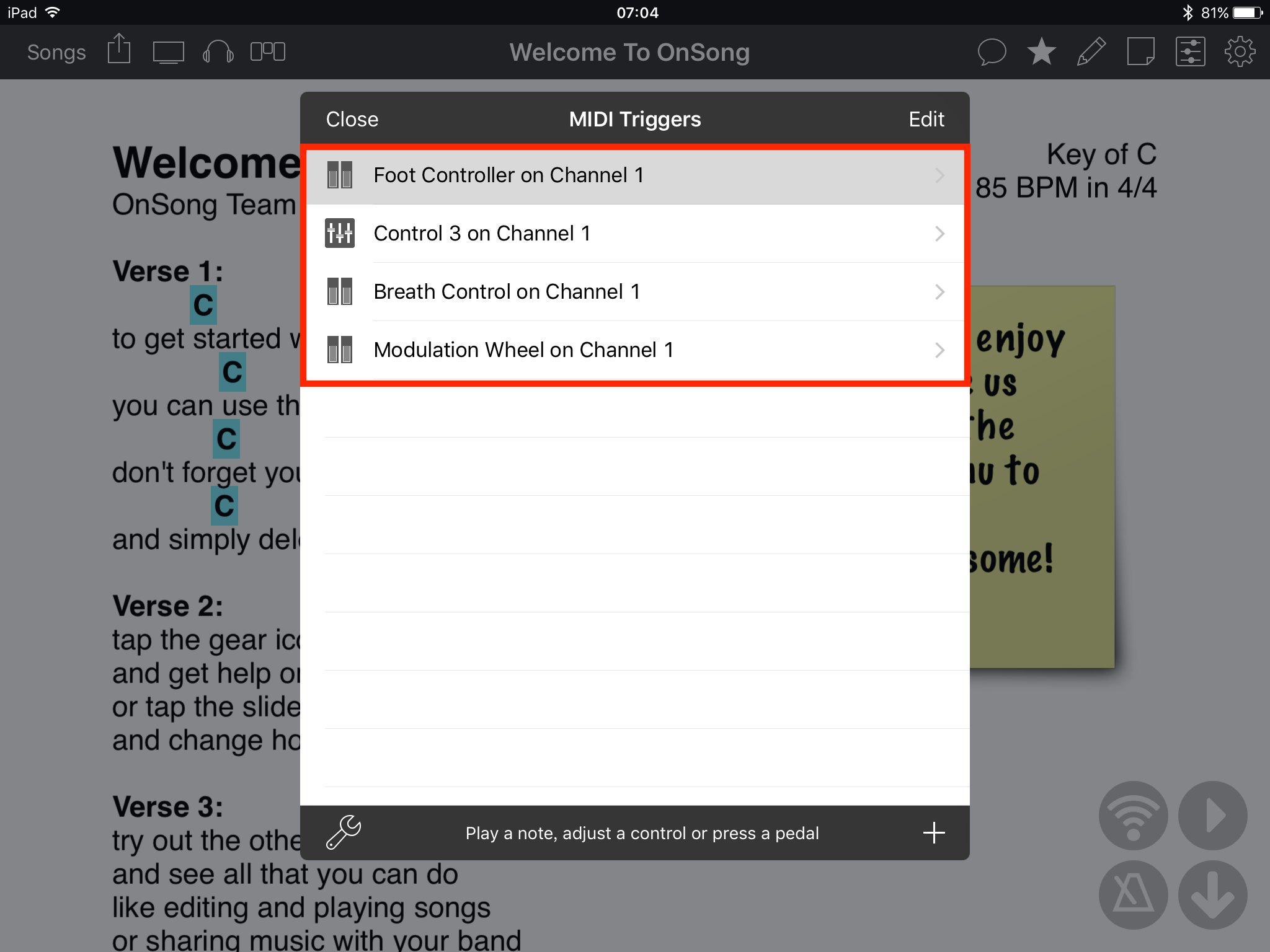 8) Finally, go back to the main screen and the BT pedal should be linked with OnSong now!
We really hoped these steps helps and if they did, please give us some feedback so we can make the help centre easier to use.
If you're still having problems, please don't fear - it may be addressed in a future update we're working on, or it might not be as simple as this; In either case, please send us a support ticket and get in touch with a support agent for further assistance. 
https://help.positivegrid.com/hc/en-us/requests/new