It's simple to register your hardware, redeem your free license and upgrade your amplifier's firmware so that it can work with BIAS AMP 2 Mobile (iPad and iPhone) :
1) Go to the App Store on your iOS mobile device.
2) Download and install BIAS AMP 2 Mobile - it's a freemium app, so there is nothing to pay. If you've previously installed BIAS AMP 2 Mobile, got to Step #3.
3) Boot the software and connect your BIAS amplifier to BIAS AMP 2 Mobile by tapping on the "gear" icon on the top right of your screen, and then tap on "Connect Hardware" in the following dropdown menu. This will connect your BIAS amplifier to the Mobile software, and upgrade the firmware at the same time. The first time you sync your amplifier this way it will take awhile to perform the firmware upgrade, but the next time you sync it will go much faster.
4) Once connected, the software will ask you to log in to your ToneCloud account. If you don't have an account yet, you can easily create one by tapping "Sign Up".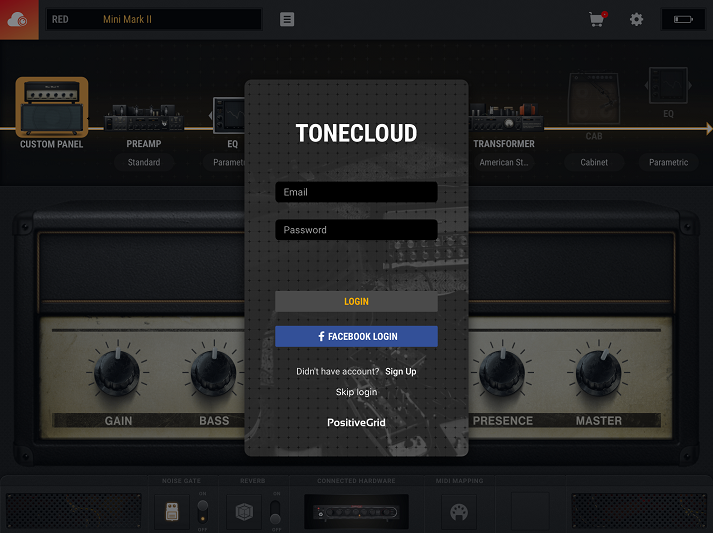 5) If this is a new account or the first time you're running BIAS AMP 2 Mobile, the software should prompt you to register your hardware. Press the "REGISTER" button to do so, and follow the prompts to complete registration.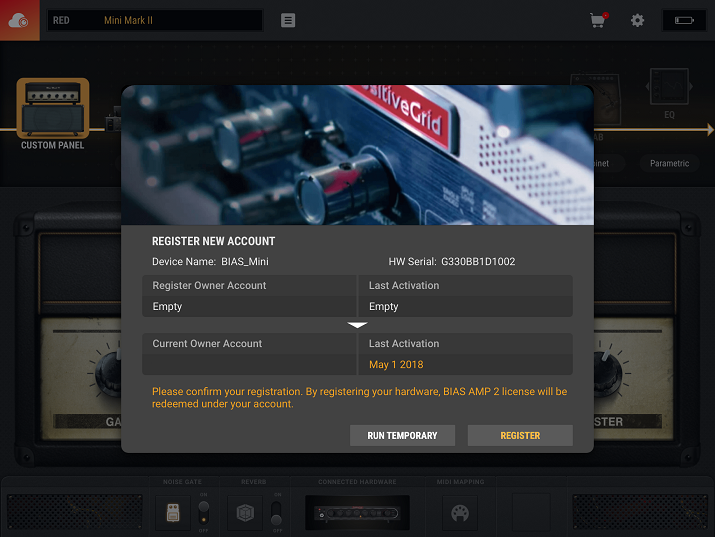 6) Once your BIAS amplifier is registered to you, a full license for BIAS AMP 2 Mobile will automatically be placed in your account. This gives you access to every option in the software other than the custom Celestion speaker packages at any time, even when you leave your hardware at home. If your BIAS amplifier is NOT already registered to your account, connecting your Head, Rack or MINI amplifier will still unlock the full functionality of BIAS AMP 2 Mobile when "Run Temporary" is selected, but only as long as the hardware is connected to the Mobile software.
7) If you dismissed the register prompt and selected the option to "Run Temporary", you can still register your amplifier at any point by tapping the "Register" button in the top right hand corner of the Mobile software.