a. Audio Setting
This menu only shows up in the Standalone version. If you're using the plugin version, please set the audio device, sample rate, and buffer size in the DAW's setting menu.
Before you start playing through BIAS FX2, you need to go to "Audio Setting" to set up your input/output device, sample rate , buffer size and MIDI input device.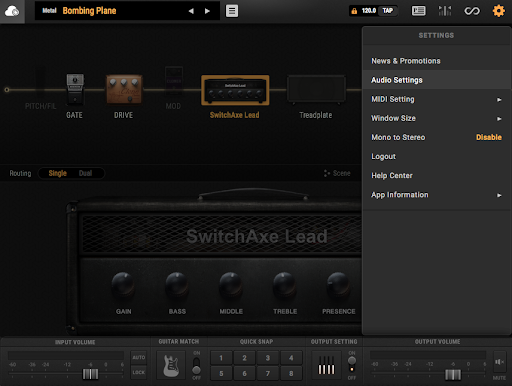 Please select your output and input device to your guitar audio interface. (Click the "test" button to check if your output device performs normally). If you're using a guitar as your input instrument, please select mono in the input menu. A higher sample rate setting will give you higher quality sound, and a lower buffer size setting will reduce audio latency, but please note that both increasing sample rate and/or decreasing buffer size will use more of your computer's resources which may lead to its performance slowing down.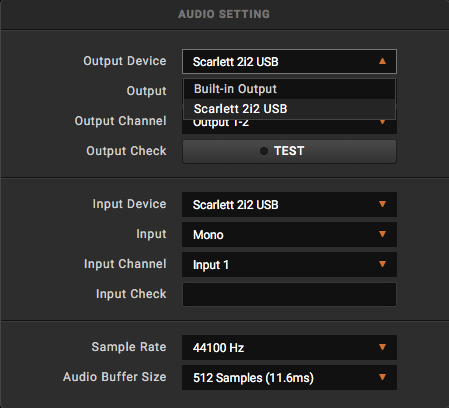 b. Login to Activate Your License
In order to use the proper license, please login to your ToneCloud account first.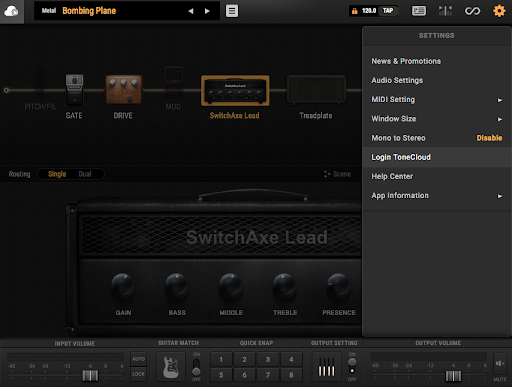 You can check if your login is successful by checking the license tier in "App Information"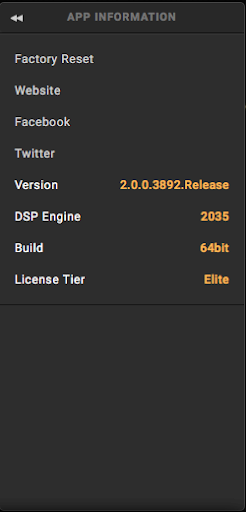 c. Input and Output Volume
The level of the input signal can affect the overall gain and saturation of your tones, and the level of the output signal can affect your overall recording level. Here are several tips to help you optimize your input signal :
For more accurate results when using an electric guitar (or bass), we suggest that you use an audio interface with a "Hi-Z" or "Instrument" input.

If your audio interface offers input level adjustment, it is typically best to adjust it there to keep the recording level entering the plug-in within this optimal range. Try to avoid clipping in the input stage of your audio interface.

Guitars with active pickups may have a hotter output than traditional passive pickups. If your guitar utilizes active or especially high output pickups, we recommend that you set your audio interface or preamp's input PAD to "On", if available.

Using the auto input level button, please play at your highest level after clicking the "auto" button,to help you to adjust the input level automatically. After that you can click the "lock" button to ensure that you always use the optimized input signal.

The multi-color input and output meter also provides guidance - basically, try to keep your level within green and yellow, and avoid red (which indicates that the signal is too high and might be clipped).