*If you have a redeem code for BIAS FX 2 license, please go to How to Redeem a Code for the Software License? to first redeem the license, then come back for further instructions.
How to use this guide
In this guide, we'll show you the step-by-step from downloading your just-purchased BIAS FX 2, installing it, activate the license, to set up the correct audio setting and getting a sound from the application. The steps listed apply to both PC and Mac users, and when there's a difference we'll also address it. 
Download
*Please make sure to download the exact program you purchased. BIAS FX 2, BIAS AMP 2, and their predecessors, are all different products. 

1. Make sure you've already registered an account with the email you purchased with. If you haven't, please sign up here.
2. Click "Sign In" on Positive Grid website and sign in to your account.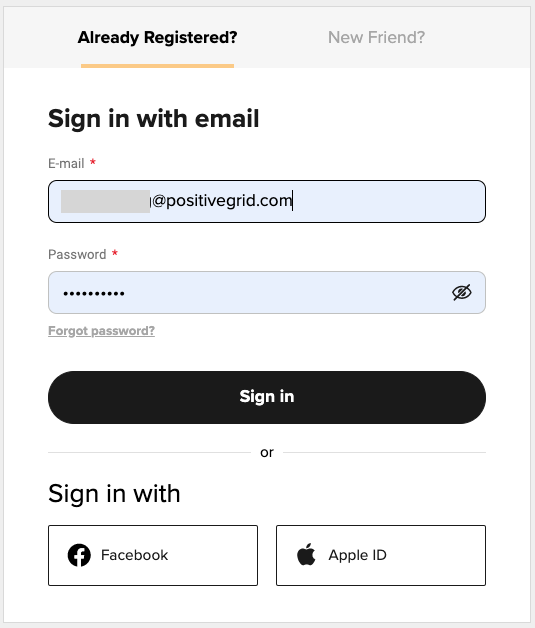 3. Once signed in, find the "My Account" button on the top right corner of the site to enter the user center. (Alternatively you can access the user center here.)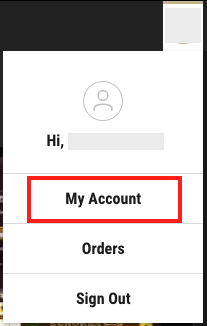 4. Find the "License & Download" tab on the left, there you will see all the desktop software licenses and downloads under your account.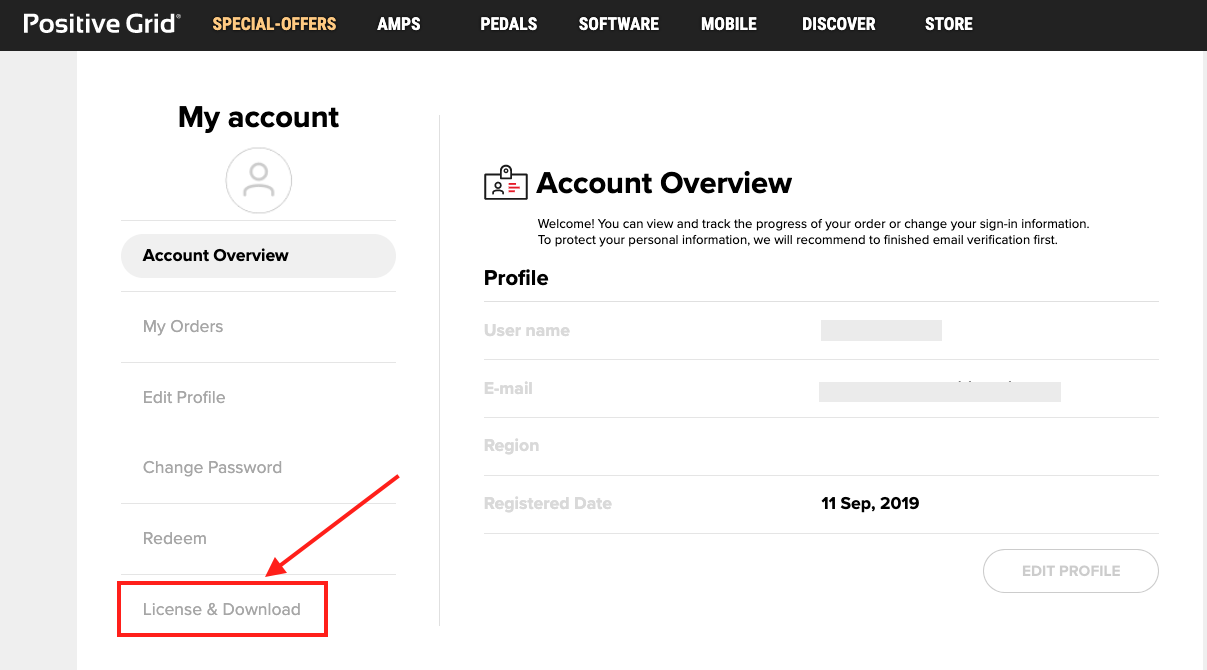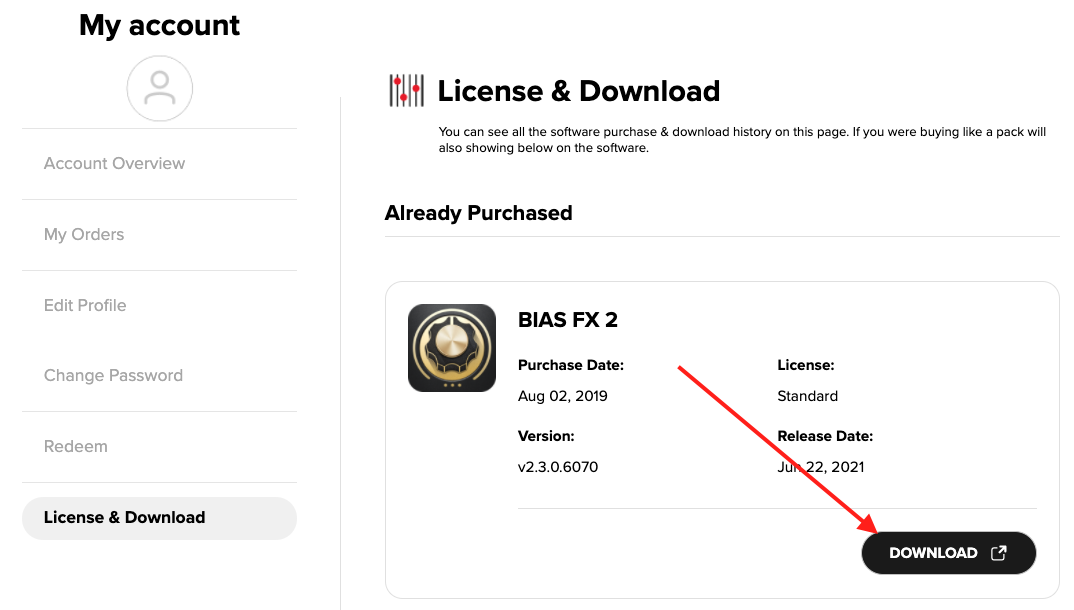 5. Click Download, and select the OS/program type (Mac or Windows 32-bit/64-bit) then proceed with the download.
*For Mac users, the purpose for each version is as listed:
AU/VST - Plugin for most DAWs
ProTools- For Pro Tools only
Standalone - For using without a DAW
Installation
After downloading, launch the installer and simply follow the instruction to complete the installation.
Activation
*We currently do not support offline activation for our software products. Internet connection is required to activate your license. This is both for security and combating software piracy.
1. Make sure to run BIAS FX 2 as administrator (if your system allows such an option).
2. Open BIAS FX 2 Standalone application/plugin (within your chosen DAW) and log in to it with your Positive Grid account.
3. If you don't see the log-in window, please click the gear icon  to access the settings menu.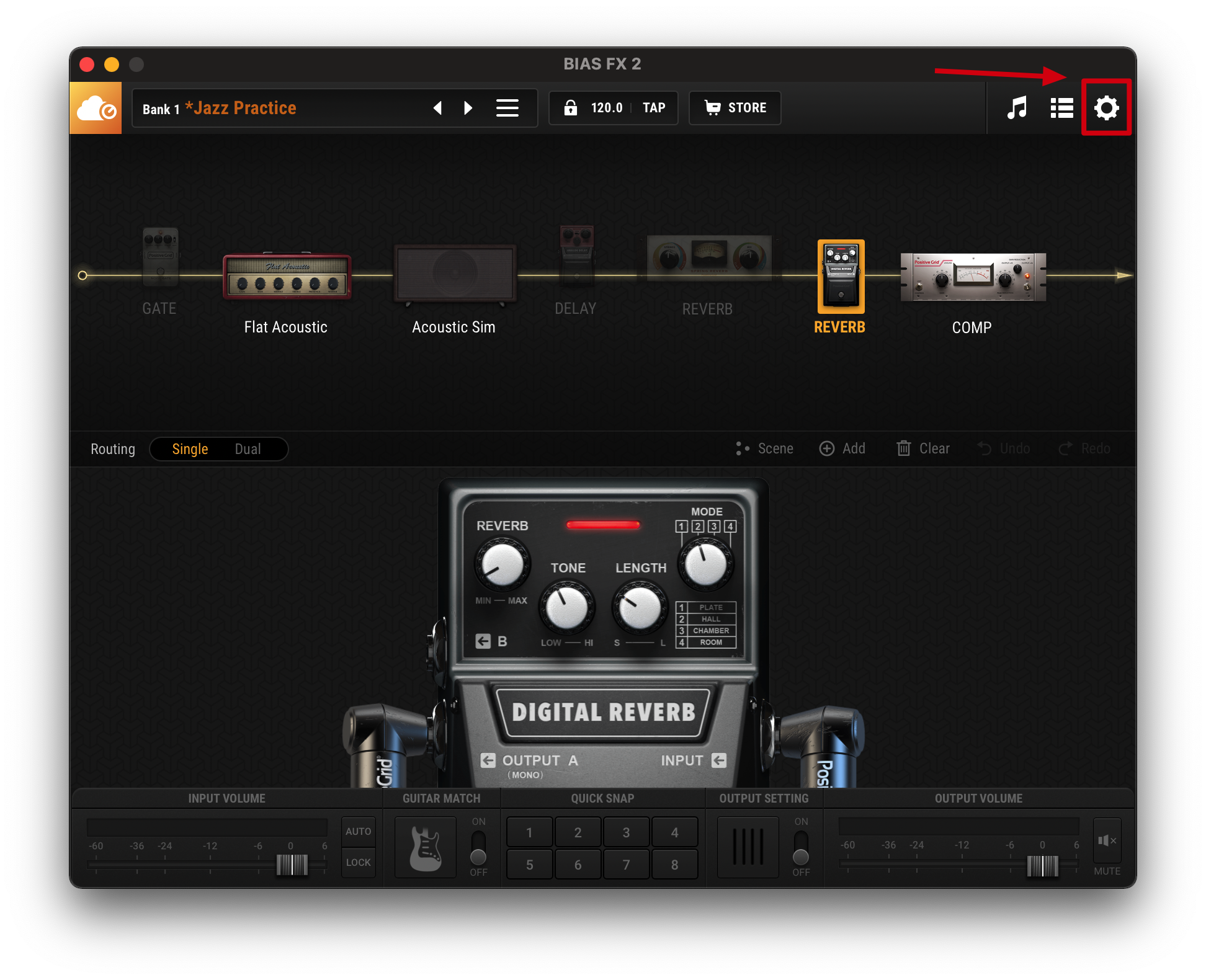 4. Click Account Info -> Log in to bring up the login window.
5. Enter your user account and password to log in and activate your license.
That's it! Your BIAS FX 2 should now be up and running.
To check if your license has been properly activated, please follow the steps below:
1. Navigate to the settings menu by clicking the gear icon in the top right corner.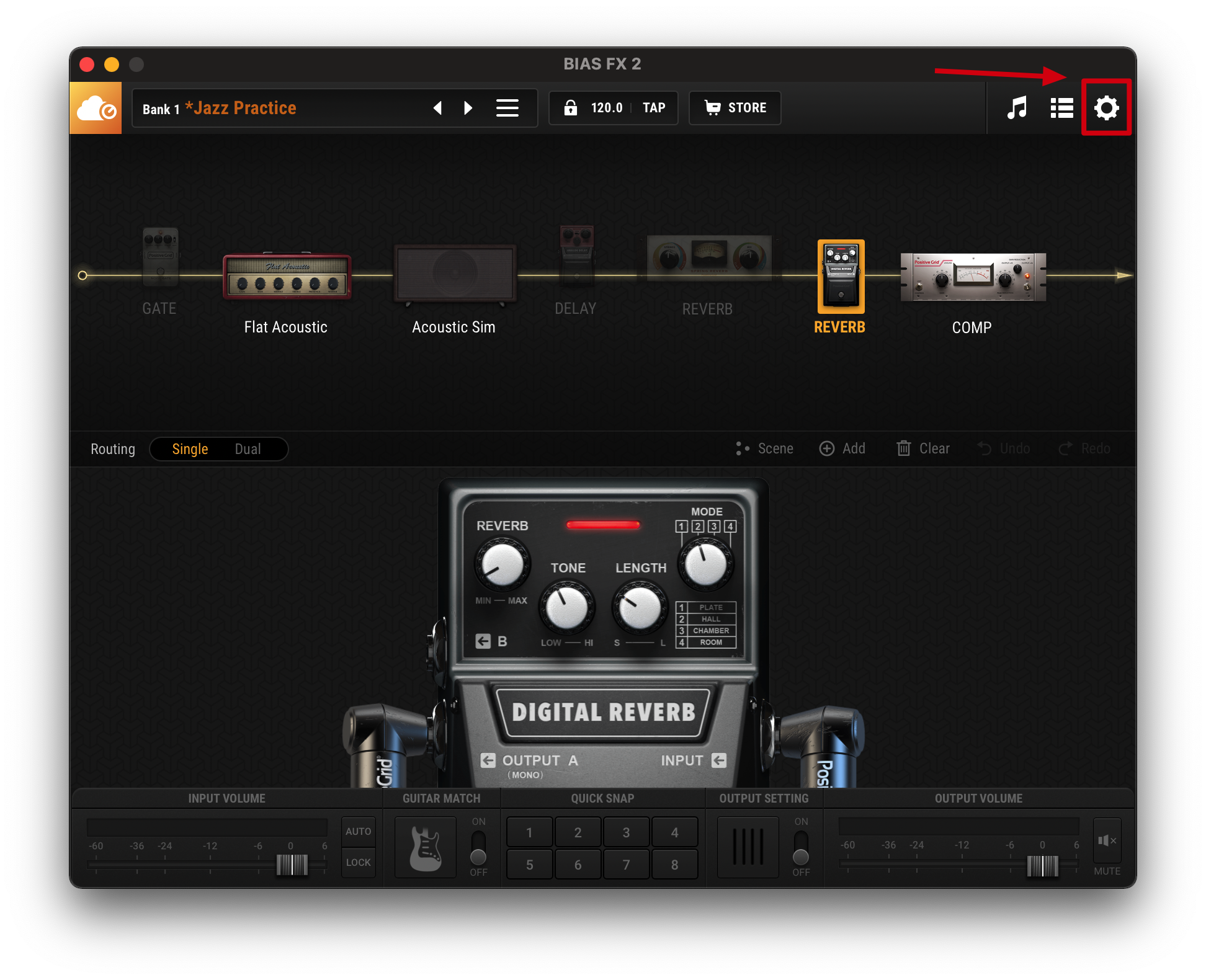 2. Click App Info.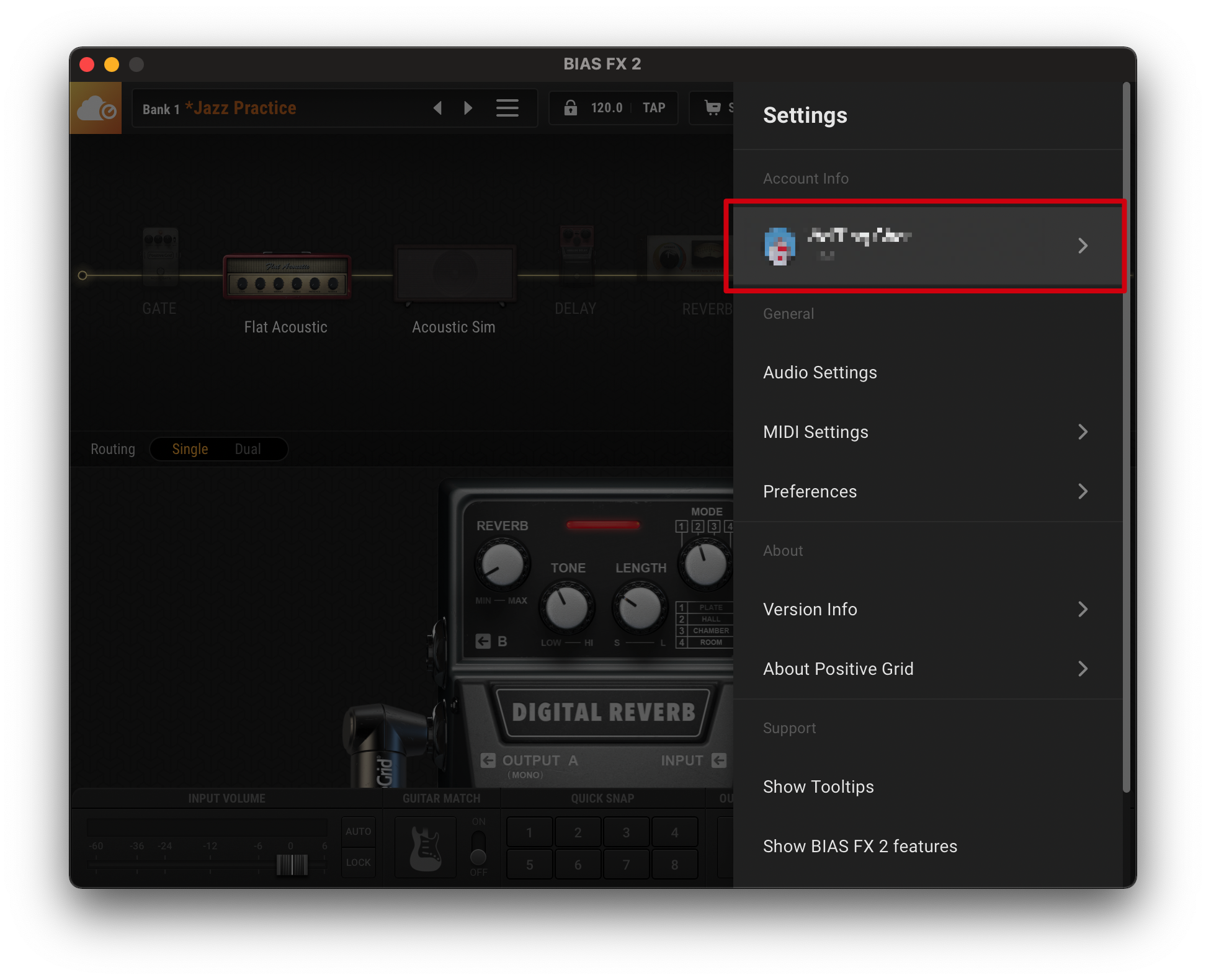 3. Check the status next to the License Tier. 
It should show Demo, LE, Standard, Professional, or Elite (depending on which license tier you own).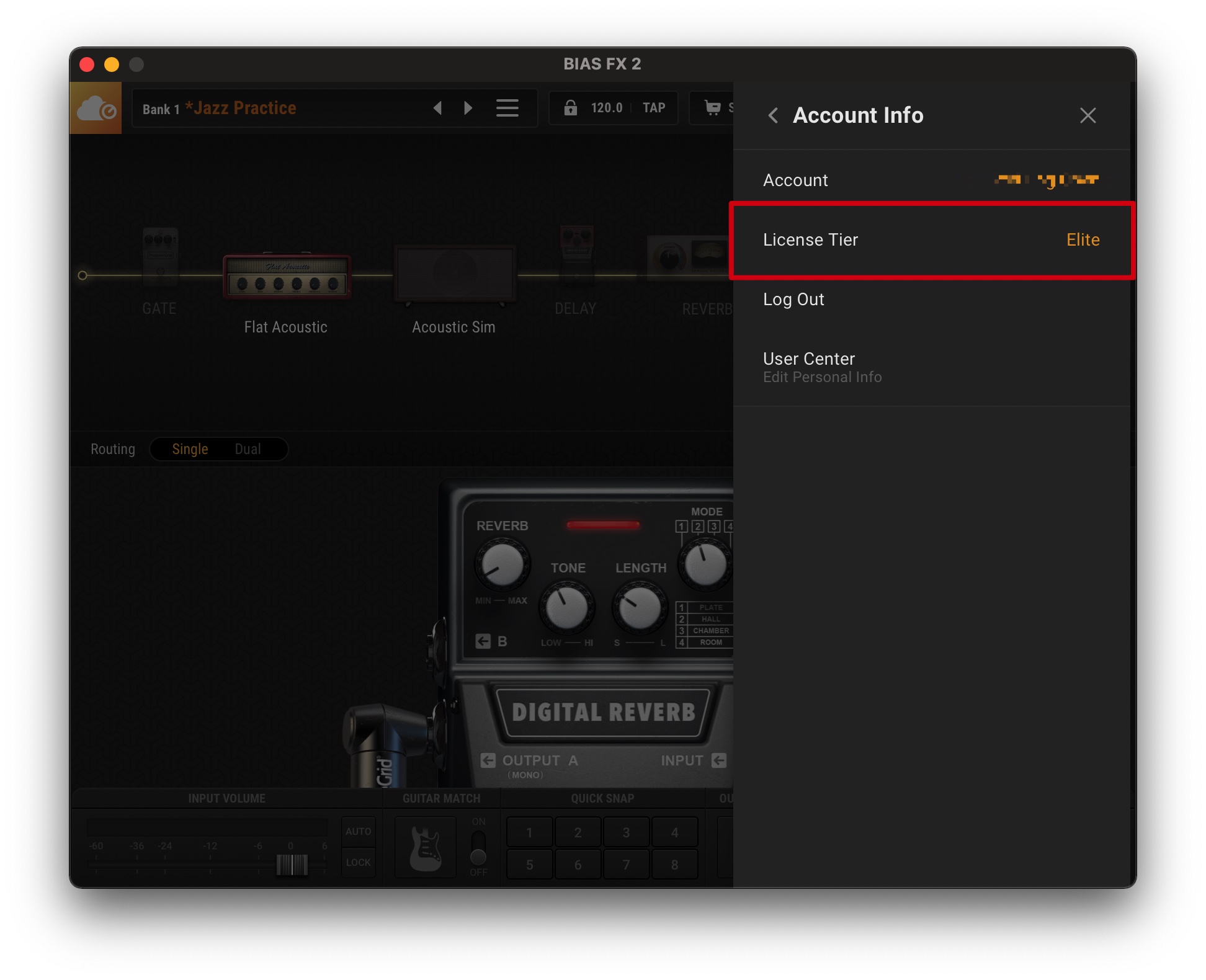 Important Notes:
If you see the 'Login Failed' error message, please refer to this link: Login Failed: 0, 7, -201

Please make sure you are using the same account you used for the purchase. Logging in with another (wrong) account will change the license tier and possibly revert the program back to Demo Mode.

Our desktop products are available for activation on 5 computers max (doesn't matter if it's PC or Mac). More activations will result in Demo Mode.

To deactivate a previous activation, go to our user center and find the 'Manage License' option on the 'License & Download' page.

If the license keeps showing 'Demo' and is unable to activate to a full license, please temporarily disable your anti-virus software/firewall and try again. 

For further assistance, please contact support here.
Audio Setting
* Before configuring the software setting, please make sure you switch OFF 'Direct Monitor', or turn the MIX knob all the way to 'DAW'. Otherwise, you'll only be hearing the "dry guitar signal" no matter what.
To get a sound out of BIAS FX2, you need to go to the 'Audio Setting' page to set up your input/output device, sample rate, buffer size, and MIDI input device.
*Plugin version doesn't have the Audio Setting tab, as it follows the setting of the DAW. Please find the setting/preference tab for your DAW for further configuration.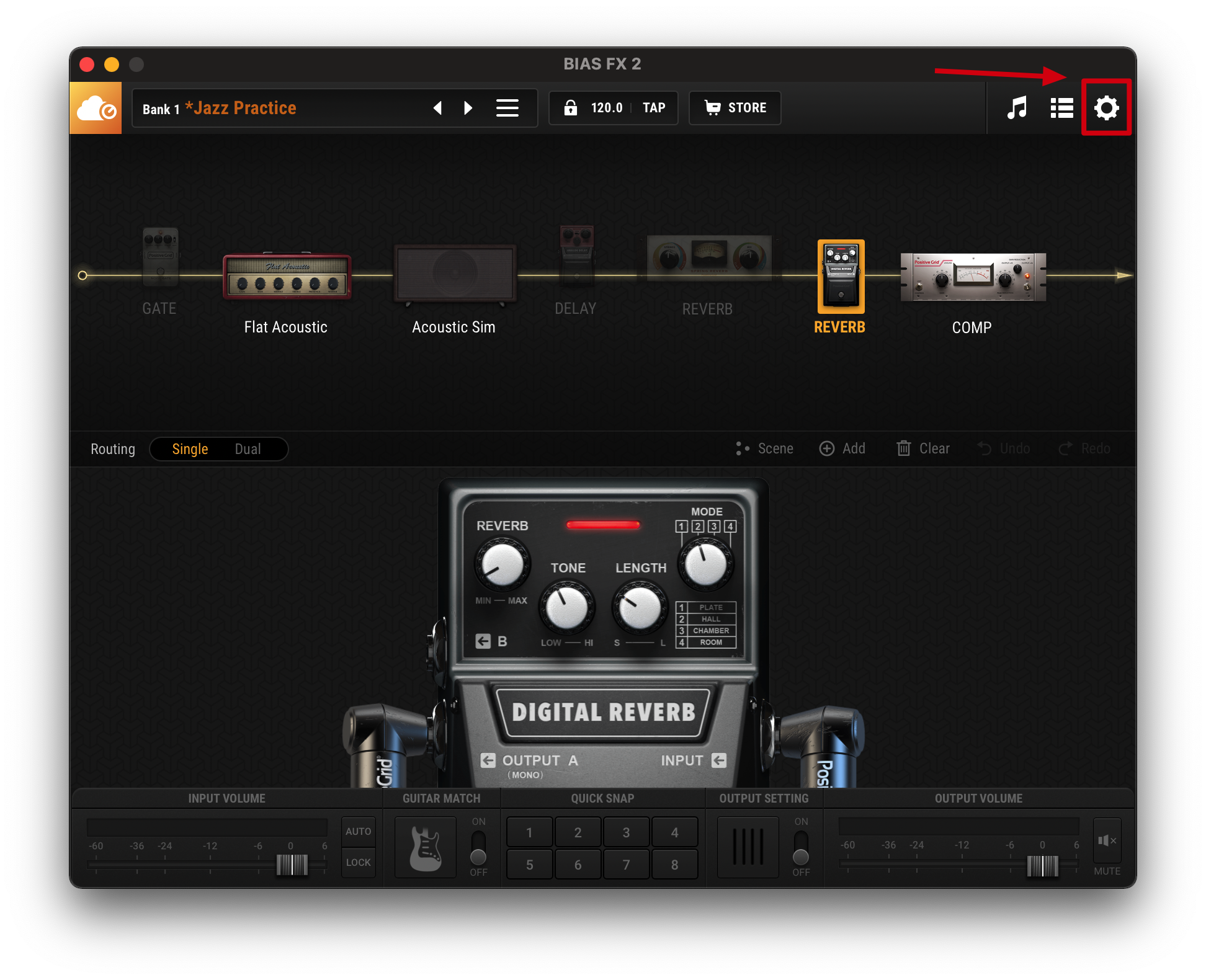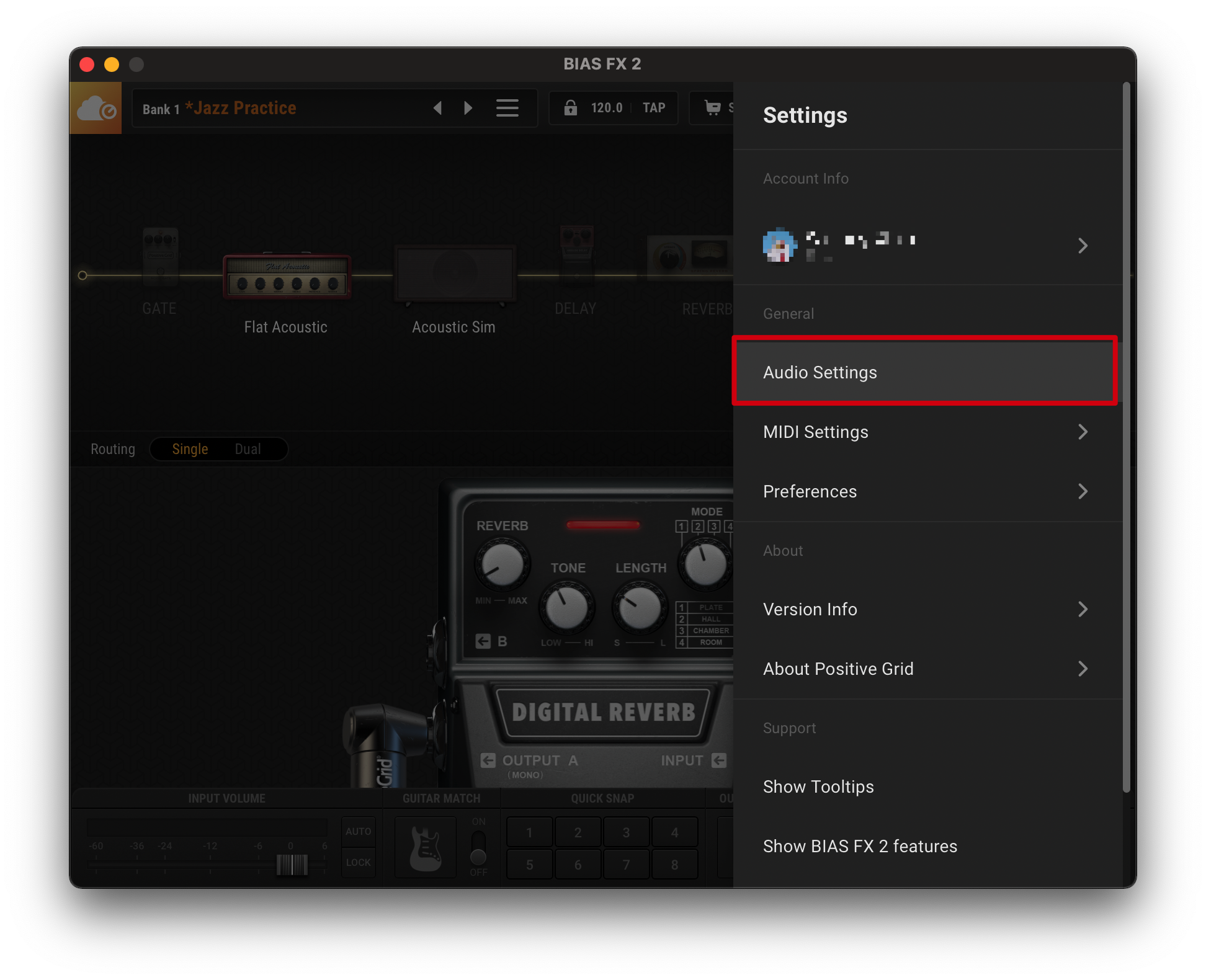 - Audio Device Type (Windows only)
Select ASIO. (please do NOT use Windows Audio to avoid audio latency).
*If ASIO is not an option, please download and install the latest ASIO4ALL driver at http://www.asio4all.org/
Please also make sure to download and install the latest driver for your audio interface from the manufacturer's website.
- Output Device
Select your audio interface as your Output Device
- Output
We recommend you set it to 'Stereo' unless your setup does not allow stereo playback.
- Output Channel
Choose the corresponding outputs (on your audio interface) and make sure they're connected to your studio monitors/speakers or headphones.
Make sure you can hear a test tone when you click on 'Output Check', otherwise the hardware configuration is probably wrong.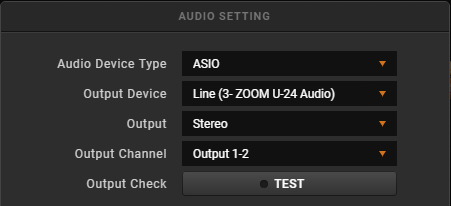 - Input Device
Select your audio interface as your Input Device 
- Input
If you're using only one input for your guitar, please choose 'Mono'
- Input Channel
Choose the corresponding input(s) (on your audio interface) connected to your guitar/instrument.
Make sure you can see the green input signal in the 'Input Check' bar when you play guitar, otherwise the configuration is probably wrong.

Sample Rate & Audio Buffer Size
- Sample Rate
Please choose the desired sample rate (supported by your audio interface).
We recommend you stick with 44100 or 48000 Hz to avoid CPU overload, which will in turn cause crackling/popping noise (a higher sample rate requires more CPU usage).
- Audio Buffer 
Please choose the desired buffer size.
We recommend you stay within 256 ~ 512 samples to achieve the optimal performance without overloading the CPU, which will in turn cause crackling/popping noise (lower buffer size requires more CPU usage).

Active MIDI Inputs (Optional)
Please select the MIDI inputs that you want to use. For further information on how to set up your MIDI device, please refer to 'How to Use MIDI Control in BIAS FX 2 Standalone Version?'.

Additional Setting
The level of the input signal can affect the overall gain and saturation of your tones, and the level of the output signal can affect your overall recording level.  
Here are several tips to help you optimize your input signal : 
For optimal performance with an electric guitar (or bass), we suggest that you use an audio interface with a "Hi-Z" or "Instrument" input.

If your audio interface offers input knob(s), it is best to adjust it for keeping the input level (going into the plug-in) in an optimal range. Try to avoid clipping in the input stage of your audio interface.

Guitars with active pickups may have a hotter output than passive pickups. If your guitar utilizes active or particularly high output pickups, we recommend that you set your audio interface or preamp's input PAD to ON, if available.

To use the auto input level detection, please hit the 'AUTO' button next to the Input Volume bar and strike the strings with your utmost power. The program will detect your playing and help setting it to an optimal level. After that, you may click the 'LOCK' button to ensure that you're always using the optimized input level.

The multi-color input and output meter also provide guidance - basically, try to keep your level within green and yellow, and avoid red (which indicates that the signal is too high and might be clipped).
| | |
| --- | --- |
| |   |
Further reading:
Full Product Tour for BIAS FX 2