*Please confirm what you purchased is exactly what you downloaded, especially BIAS AMP and BIAS FX are two different products.*

1. First, log into your account on the Positive Grid store page. It has to be the same account that was used to purchase the product. https://www.positivegrid.com/plugins/
2. After you've logged into your account, the Download Page will become available for your purchased product. Or you can just Scroll down the page to find the product and click "Download"
*If you purchased our products from our dealers/distributors, please redeem your code here after Logging in*

3. On the download page, click the installer that matches your operating system (Mac or Windows 32-bit/64-bit) and proceed with the download.
4. Open the installer and follow the instructions to install.
5. Open the software and click the settings icon on the upper right corner of the window. Then click "Login ToneCloud" in the drop-down menu to log in and activate the software.
6. To check if the software has been activated, go to settings, App Information and make sure that it shows "Standard" or "Professional" (for Professional license) under License Tier.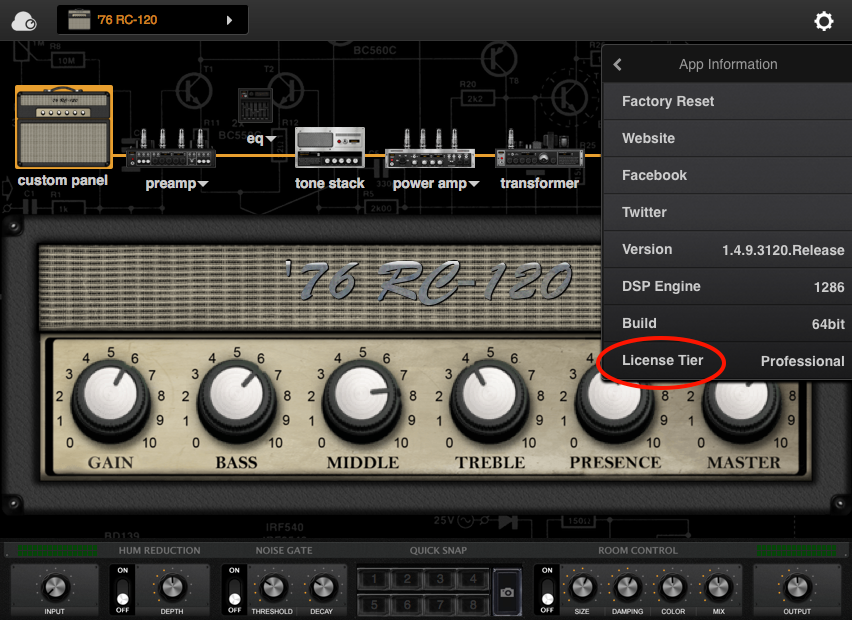 If you still can't log in after following the steps, something must went wrong. Please refer to this article for troubleshooting:  
The license will be tied with the account which you key in after the purchase process. If you log in with a different account, BIAS will turn into a demo version. Please make sure you are using the same account you signed up with for the purchase.                                                                                                        
BIAS Desktop allows you to activate the full license on 2 devices. Please make sure the quota is still enough. You can release the quota by uninstall the software completely from your devices.                                                                                                                                          
Another common root cause is the firewall setting of your anti-virus software. If the version you are using is a Demo (disabled "save/save as", system message showing for upgrade) and is unable to activate to standard version. Please disable your anti-virus software temporarily then try again. 
*Please note: Internet connection is required during the installation process.*